Ever since organisations were created for the purposes of producing a profit, organisational leaders have been interested in finding ways to improve performance. Over the years there have been many theories and methods which have risen and fallen in popularity, the focus most recently being on technology-led platforms that not only support improved performance but claim to be able to predict future behaviour. Of course, there are also the usual suspects like performance reviews, employee surveys, 360 reviews and goal-setting.
So what works? Not too long ago we used our EmployeeLife survey platform to post a single question poll across LinkedIn. What we discovered is that only 30% of respondents agreed that their company's performance system helped to actually improve performance. This would seem to indicate that performance is less about systems and more to do with what's involved.
It's the intention that really counts!
In today's 'VUCA' (volatile, uncertain, complex, and ambiguous) world, it's difficult to plan anything with any confidence. Yet, just like any journey you might set out on, there is usually an intention (goal) that will be important. Whilst most 'performance' systems seem to focus a lot of attention on the past to analyse what happened, its the original intention that provides the biggest influence on behaviours and actions. Everything shuffles into place according to what the future requires. If this future isn't clear, then it's hard to know what to do next. Our performance drumbeat approach focuses on setting a small number of highly important future goals, and then identifying the key actions and behaviours that are most likely to lead to these being achieved. This is the best way we know to guide the many day to day decisions that team members need to make, at scale!
However whilst setting clear intentions and goals is super important, there is a dark side to goal-setting. Goals are created using imagination and best-guess, and it is almost impossible to know with any certainty how things will play out in reality. That is not to say goals are not useful, they are extremely useful. It's the blind attachment to them that can severely impact success. Going after a goal even though it is discovered the original assumptions are incorrect is a sure-fire way to waste a lot of time and effort, and then there's the impact on employees and customers. Not good.
It is for this reason that we suggest a cycle of having everyone regularly self-reflect on how things are going and what needs changing. By adopting a realistic approach to goal setting, the chances of success can dramatically increase.
Why is having a Performance Drumbeat important?
There is a reason Bands have drummers and Orchestras have conductors. Regardless of how good each individual musician is, the magic happens when they play well together. Even freestyle jazz musicians play together with 'rules' governing how they will play moment to moment.
And so it is with workplaces. Whilst really gifted teams might be able to make things up as they go, this is rarely a successful strategy. A performance drumbeat is simply a cycle of important success habits that keeps everyone and everything dancing to the same beat. With a simple and clear framework to guide performance, it puts everyone in the best position to succeed (and adjust) together.
The characteristics of an effective performance drumbeat are shown in this diagram.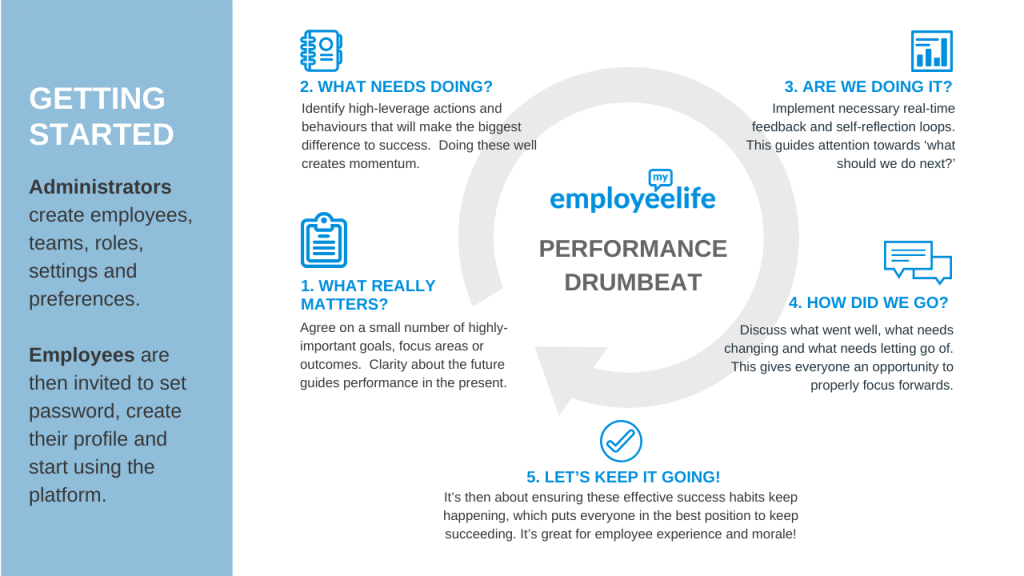 Notice the important elements:
Clear goals/intentions – a small number.
Identify key actions and behaviour, and focus attention on these.
Agreement about what is important – the 'rules' of the game.
Clear expectations about performance and standards.
Removal of unnecessary 'clutter'.
The Performance Drumbeat sets in place a foundation of simplicity, clarity and real-time progress towards what needs to be achieved. Our My Employee Life platform was specifically designed to support this cycle of success habits in a really simple way.
Need help?
We regularly help our customers to improve the way they set goals and to create a performance drumbeat that best suits them. Workshops start from just $1,500. Simply book in a time to discuss, we'll have you on the right track in no time.